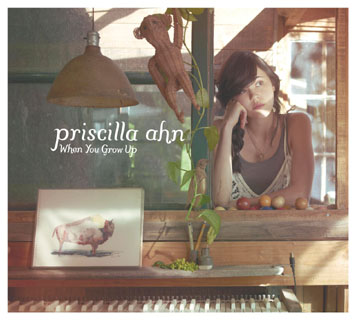 1:Tell us about the new album" When You Grow up".How would you describe it?Why did you decide to use the title of the 1st track of the album as the actual album title?
Priscilla Ahn :
This album is a lot about "growth". A lot of the songs were written in a period of my life when I did a lot of "self-reflection" and looking at my life, so some of the songs reflect that. Also... there were a lot of new experiences making this album: Recording it in England, working with a new producer, and co-writing a lot of the songs on this album.
I realized that I wanted the title of the album to maybe be the name of one of my songs (like how I did for the first album). And then it just hit me that "When You Grow Up" would be perfect, because I knew these songs had a lot to do with the idea of 'growing up'. I also like the question of "When do we grow up?" And hopefully, we never get to a point in our lives when we stop growing. Hopefully we keep growing up for the rest of our lives. Ethan Johns, the producer, came up with the song order, and this song just happened to be the opening track, which I think is perfect.
2:What does this second album mean to you in your life? It is a great sound for you.Tell us about the producer, Ethan Johns.
Priscilla Ahn :
This was a big learning experience for me, inside and out. On the outside... it was my first time recording out of my comfort zone, which is usually Los Angeles. And also, my first time working with a new producer. It was such an honor to work with Ethan Johns. His approach to recording music is very "old school". We recorded almost everything to tape. And we would do many many takes of a song until we found the right one. It was a slow, but well-thought out process. He really cared about what we were making together. And because we were recording in a whole new country, far away from home, it actually made me focus a lot harder on this record.
As far as how this affected me on the inside... I felt a lot of pressure that this album had to be as good as, or better than my first album. And it really got into my head in a negative way. Normally, I never think about that stuff, or let "business" affect my writing. I refuse to let that stuff affect my creativity. But it kept appearing and making me doubt myself and my songs at every corner. I'm usually very self-confident in my art... but the business side of things really made me insecure. I had to learn how to eventually overcome that. I still struggle with it from time to time... but I'm learning how to accept it in my life, and then move on from it.
3:When did you first feel like a grown-up?
Priscilla Ahn :
Hmm.... I think when I got married, which was only 1 year ago! But I immediately felt like a "woman". Marriage is a big responsibility. I think the biggest thing I've taken on in my life. I didn't expect anything to change in my life when I got married. So I was very surprised to feel an immediate change. That was a big day for me.
4:In 2009 " A GOOD DAY ", in 2011 " When You Grow up "....Has the recording process changed though the years?
Priscilla Ahn :
Mine definitely has. With the first record, we went into the studio without a plan. For each song we were like, "let's try this...now let's try this". We just sort of made it up as we went. With this second album, I wanted to go in with more of a plan. So before I went into the studio, I demoed each song at home, and thought out a lot of the instrumentation, so that the album would have some kind of theme or a feeling. And then, the way that Ethan records is very different from Joey Waronker's. Like I said, he has a much more patient, "old school" approach to recording. I enjoy recording both ways. I don't know how I will record my next album!
5:In regard to your Japanese bonus track "
Love
", What made you want to cover that song by John Lennon?
Priscilla Ahn :
It is one of my favorite John Lennon songs. I remember hearing it when I was a teenager on one of my Dad's old vinyls. I just love the lyrics. So simple, yet so full and true. Love really is all of those things. And at first sight... those things are so simple and small, but really, those are sometimes the only things that matter.
6:What do you care about most when you make a song?
Priscilla Ahn :
That it is genuine.
If I start over-thinking things, or trying to change words around so they "sound" better, that's when I put my guitar down and just stop. The songs that are the most true to me, are the ones that take no effort to write. They just sort of come to me and flow out without me thinking about it. I vow to never write a song that isn't genuinely me.
7:What do you do for a change?
Priscilla Ahn :
I love traveling with my husband! But that is a big thing... on a day to day scale, I love to make soups! I love cleaning the garden and making the plants look pretty. I love to sew and watch movies and read and paint. I love to do all of these things. They all inspire me creatively and bring me peace. And I feel like all of that creative energy funnels out thru my song in the end.
8:How do you get inspiration for your songs?
Priscilla Ahn :
They are all mostly based off of my own life experiences. So it really comes down to experiencing life! And taking note of things. Looking at myself. Being in touch with my feelings. Or being in touch with someone or something else I see, and having compassion for their particular experience.
9:What is the most precious thing in your life?
Priscilla Ahn :My loved ones.
10:Please tell us your favorite lines of any song in this album "
When You Grow up
".
Priscilla Ahn :
From my song
One Day I Will Do
: "This I promise you: One day I will do. I swear. I swear". When I sing this line... I really feel it and mean it and promise it.
From
Oo La La
: "You feel lonely and shy, but you take the empty seat next to the cute guy". I just love the idea of this! It's something I'd probably never have the courage to do back when I was single... but I would wish that I had.
From
I Don't Have Time To Be In Love
: "I don't have time to be in love... kissing you on the cheek. 200 times a week". I just love this imagery. It makes me feel so cozy and in love.
11:What made you go into music?
Priscilla Ahn :
Both my parents played a big role in my life in this way. My Mom was always singing with her beautiful voice, and playing piano. She inspired me to start singing from a very young age. And then my Dad always encouraged me to learn the guitar -- so I did. And I fell in love with the music he listened to (Neil Young, Bob Dylan, The Beatles, Pink Floyd).
12:What is the most amazing experience you've ever had?
Priscilla Ahn :
That's a hard question... I consider so many experiences amazing! Like getting married in Hawaii... snorkeling for the first time... our honeymoon in Kyoto. Oh! I can think of one very special one. 2 years ago, my husband and I spent 2 weeks for holiday in Tokyo and Kyoto and Koya-san. We rang in the New Year at the Zojoji Temple. At the end of the countdown, we released these clear balloons into the sky... and everywhere you could see balloons rising up from Tokyo. It was so magical! And then going inside the temple where the Monks were chanting and drumming...it made my heart flutter with emotion! And then visiting Koya-san, and waking up early in the morning to hear the Monks chanting. I'll never forget the sounds and the smell of incense... it was very moving.
13:I heard you love Japan. What is the most beautiful place you've ever been to?
Priscilla Ahn :
Well, haha, I think Koya-san is one. Although, it was so cold, we didn't get to see much of the town. My husband and I spent our honeymoon in Kyoto as well. We love that city. It is so beautiful in Fall, Winter, Summer. I'm hoping to be there one day to see the Sakura season in Spring.
14:What does beauty mean to you? Why?
Priscilla Ahn :
True beauty to me is something pure. Natural. Like what attracts me to things in Nature, like flowers and trees and the ocean. Beauty is simple, and doesn't try. It just is. I feel like all people have this beauty inside of them, if they can believe in it in themselves and just be.
15:What surprised you most when you first came to Japan?
Priscilla Ahn :
I think how cute everything was! I love all things cute... and Japan has a lot of KAWAII things in it, which is part of the reason I think I love it so much. Also, the sushi blows my mind!
16:What kinds of music have you listen recently?
Priscilla Ahn :
I have been listening to Twin Sister's EP "
Vampires With Dreaming Kids
". My favorite track is "
I Want A House
". I listen to this song almost every morning. It makes me feel really good and happy.
17:What have you been interested in recently?
Priscilla Ahn :
Making soups! I've been touring through Germany and other parts of Europe where it feels very Fall-like. I love this season. It makes me want to be at home, and making my house cozy, which means cooking soups!
I've also been getting into mythology stories. I've learned bits and pieces of mythology in school, but now I'm fascinated by them. I think because now I realize there are many lessons you can learn from these stories that can be applied to our lives.
18 : What kinds of flowers do you like? And why?
Priscilla Ahn :
My favorite flowers are wildflowers. I love that they're not perfect, and that's OK. And their "woody" scent. I also love white Lillies, because their aroma can fill up a whole room. When I'm home alone, their presence keeps me company. I also love "Chinese Lanterns" in the Fall. They remind me of when my husband and I first met. They were the first flowers I ever gave to him, on his birthday.
19 : What kinds of birds do you like? And why?
Priscilla Ahn :
Hmm... I've never really thought about this before. Well, I love watching hawks fly. I love the quiet "hoo hoo" sound the owls make at night. We have one normal brown bird that comes to one window of our house, and taps his beak against it to attract his female. It's so cute! And I love any bird that loves to sing.
20:How do you see your musical journey in the future?
Priscilla Ahn :
I hope that it keeps expanding. I'm interested in doing so many different projects. I really want to try making different kinds of music. Trying different styles of music that I love. It of course, has to still be genuine of me, but I'm experimenting with that a little right now, and it's been really fun. I would also love to write more instrumental music. I'm very inspired by film scores. And I would love to write a children's album that adults can listen to as well.
21 :Please any (brief) message for Japanese fans.
Priscilla Ahn :
Thank you so much for your continued support! Japan will always hold a very special place in my heart. If it wasn't for the fans supporting my music, I'd have never had this opportunity to visit the country and fall in love with it over and over again. For that, I thank you all so much.
(This email's interview is current as of November. 2011)
------------------------------------------------------------------
The Credit will read:
Posted with permission from Priscilla Ahn
Related website LINK:
PRISCILLA AHN::プリシラ・アーン/UNIVERSAL MUSIC JAPAN
Japanese lyrics(From
When You Grow Up
):
Youko Shintani 新谷洋子
Translation and Questioner: Yukiko Yamaguchi
-----------------------------------------------------------------
日本語を読む webmagazine kimbou:Japanese
webmagazine kimbou:on line free paper TOP ページへ
webmagazine kimbou:home