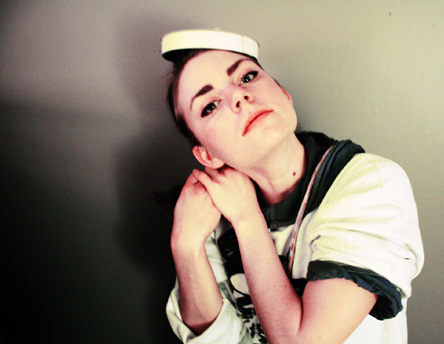 1:In regard to your new album, what made you collaborate with Rasmus Faber?
Frida :
I've admired his musical gifts for many years and I really believed that he could take the productions that I had made and improve them to the highest quality. He has been very humble to me during the collaboration and he has really listened to what I have wanted through the whole working process. 
2:What does this album mean to you in your life?
Frida :
Creating music is to me a way of ventilating my thoughts of everything I experience in life. My music is very personal to me, so it's not always easy sharing it with others. At the same time, it's the only thing you really want - you'd like everyone to hear it! Making this album has been very confirmatory to me as a musician, it feels good to be able to hold your very own CD in your hands, knowing that you really has created something concrete. 
3:Why did you decide to use the title of the 6th track of the album as the actual album title?
Frida :
The lyrics of "Dear, Let It Out" really mean a lot to me. There are so many, especially young, people out there that inhibit themselves. They never really dare to act and express what they really like and think about life. I want them all to just set themselves free, to speak out and do whatever they like. I think this message comes back in many of the songs of the album, not only in "Dear, Let It Out", and therefore I wanted to use that phrase as the name of the album. 
4:Please tell us your favorite lines of any song in
Dear, Let it out.
Frida :
I really like the line "I had this soundtrack of my life that I really liked" in "I Am Not Aware". 
I think it describes how you feel when you're totally satisfied with everything in life. You feel like you're in a movie and the soundtrack of that scene you're in is your absolutely favorite song. You couldn't feel more lucky! I also like "The rain is falling down and the sun is shining at the same time" in "Plastic Garden", because it's my absolute favorite weather and I get this childish happy feeling in my stomach when it happens. 
5.Where do you get your ideas for your songs?
Frida :
I get my ideas and inspiration from everything I experience. People, music, movies, running, driving cars, God, laughing, crying, odors, sunshine, rain, studying, drinking coffee… 
6.I heard your favorite weather is the rain. And you have the same title in your album.
Why do you like rain?
Frida :
Well, I always get this special feeling of freedom when it rains, I feel like one with the nature. I also love the scent of rain, it's the absolutely best! When I was a little child, like five years old, I loved the rain because it would make the worms in the ground to come up to the air and I was able to collect them and keep them as my pets. I guess that has influenced me as well. 
7.I heard you are a medical student too.A medical student and a musician, which do you enjoy?why?
Frida :
I really love being a medical student as much as being a musician, I'm not able to choose one before the other. I really think that these opposite interests stimulate each other in a great way. Variations in life are the best! Though, I'm willing to focus on different interests in certain periods in life. For example, I guess it's better for me to focus on being an artist in my twenties and a doctor when I'm older, instead of the opposite. 
8:And as medical student and as musician, what do you prefer?why?
Frida :
As I said before, I can not choose. These different interests gives me so much in different ways. I love the intellectual satisfaction I get when I study medicine, and I love the freedom of thinking crazy new thoughts when creating music.
9:What kind of place is India?
Frida :
India really is the opposite to Sweden, and I find it very fascinating. There are so many people everywhere and most of them are very opened and kind to foreigners. In Sweden most people never talk to strangers on the streets, many people are scared of talking to people who they don't know. I found this interaction with people in India very exciting and I made a lot of new great friends. I'm also very fascinated about the rich cultural heritage of the country; the food, the music, the movies, their religions. Of course, on of the bad sides of the country is the poverty and the injustice of the society. It has been very hard for me, coming from a rich country as Sweden, facing all this illness and poorness. It has been very good though, getting to see the world in new perspectives. It also made realise that I really wanted to become a doctor, I wanted to return one day and be able to really make something for the people. 
10:What kind of child were you?What were your ambitions when you were a child?
Frida :
I guess I've always been very ambitious and motivated in everything that I do. I think that everything in life can actually be very interesting and funny, no matter how boring it seems from the beginning, if you really get into it. I think that I've always had this driving force to perform in everything that I do, whether it's about doing maths, learn riding the bike, writing music or learn about the human brain. I think that one of my best features is that I'm very stubborn; when I've decided to learn something, I don't give up easily. 
My first years I spent playing with my two elder brothers and a lot of boy-cousins so I guess I started the "hard" way by doing typical boy-stuff as climbing, running, doing sports, and things like that. I really enjoyed it and I hated to wear dresses because they didn't allow me to do all these action games that I wanted. Later on I found interests in doing girly stuff as well of course, but it took some years. (Nowadays I love dresses :). 
11: Is music integral to every day of your life?
Frida :
Yes indeed. Music is in my head, constantly, when I'm not talking to another person. I'm very often thinking about melodies and harmonies when walking around in the city, I have this silent orchestra playing in my head.Sometimes I get irritable when listening to music because I just want to hear the silence. I have problems sometimes with listening to music just in a relaxing way, because I immediately start analyzing it. But most of the time, I love it. 
12:What is the most beautiful place you've ever been to?
Frida :I have to say two places
1) Kyrkesund, Tjörn on the west coast of Sweden. This is where my family has a summer house. I have spent my summers here since I was born. 
2) The tea gardens of Munnar in Kerala, India. 
13:What kinds of flowers do you like?
Frida :My favorite flowers are white peonies. They are so magnificent and they smell wonderful!
14:What does beauty means for you?
Frida :
Beauty is something that can increase the quality of life. So many things can be beautiful: music, nature, people, clothes, cars, architecture, animals, friendship… However, I think that the most beautiful thing you can experience is when a human really loves himself/herself in a humble way and therefore allows himself/herself to share that love with others. It's so hard to love your fellowmen if you don't feel good about yourself at first. I think that true love shines through your body and makes other people happy. 
15:What does silence means for you?
Frida :
It's one of the most important parts of my life. I have to get silence to be able to create music. I also have to be alone a certain time every day, otherwise I get crazy! I have to get my own space to be able to feel good and to be able to be creative. 
16:What are you noise (sound) prefer in daily life?Why?And your dislike noise(sound)?
Frida :
[like noise------------] I totally adore the sound of the rain. I also love the sound of my coffeemaker in the morning, when the coffee starts to drop into the coffee pot. 
[dislike noise--------] The sound of my vacuum cleaner. 
17:What would you do if you were invisible?
Frida :
I would search for a tiger and get very close to it. I've always wanted to meet a tiger in the reality. I would also like to observe people when they're just by themselves. It would be interesting to see how they act and if they talked to themselves (I think many people do that, at least I sometimes :).  
18:How do you see your musical journey in the future?
Frida :
I'd like to keep on writing and performing music. I would also like to write music to others, for example music for movies, arranged for a symphonic orchestra.
19:What message do you have for your Japanese fans?
Frida :
You are the best! I get so much inspiration from you! I'm really longing for coming over to your country and sing for you! Can't wait! 
(This email's interview is current as of september.2010)
----------------------------------------------------
The Credit will read:
Posted with permission from Victor Entertainment,Inc.
All rights reserved by Frida.
Questioner:Yukiko Yamaguchi
Frida Profile :
魔法のようなメロディー、そして甘く切ない歌声… ラスマス・フェイバーの最新シングル"HIDDEN THOUGHTS" に作詞/作曲/ヴォーカリストとしてフィーチャリングされ、一躍注目されることとなった、ニュー・スウェーディッシュ・ポップスの新星=フリーダ。 無名の新人が抜擢された理由は、自身で全曲の作詞・作曲を手掛け るソングライティングの才能と、ピュアで神秘的な彼女の歌声だった。
Frida related website LINK:
フリーダ:Victor Entertainment
----------------------------------------------------
日本語版を読むwebmagazine kimbou :Japanese
webmagazine kimbou:on line free paper TOP ページへ
webmagazine kimbou:home