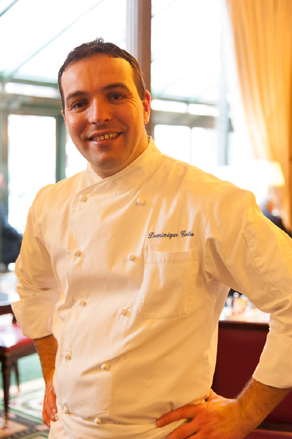 1:I hear Paris is the place to see art.I think that's a good idea for your new cake.It sounds delicious!This new cake seems to be a work of art.Where did you get that fantastic idea?
Dominique Costa :
Paris, from which many French and Parisian Pastry Chefs draw a lot of inspiration, is an unavoidable place for fashion.We often put our work on the same level as fashion.Inès de la Fressange and I both came up with this same idea while we were talking about fashion creations and a handbag she created.I told her that I thought she perfectly embodied French Glamour.It was obvious that we had to create together a heart-shaped cake with a creation of Inès de la Fressange's handbag.
2:What's it like collaborating with Inès de la Fressange?
Dominique Costa :
Inès de la Fressange was determined to create a dessert for the Café de la Paix, for everybody's pleasure around the table.
3:She is a popular fashion designer.What is she like?
Dominique Costa :
Inès de la Fressange is a great fashion creator, an icon, and she is really happy when it comes to creating a dessert, making taste, colour and texture associations. I took a lot of pleasure in this collaboration.
4:How do you feel about starting your new cake's project?
Dominique Costa :
I immediately felt that the project would be ambitious, because the handbags are created one by one without any cake mould.They are the result of a huge work, with only chocolate and a man passionate about his work.
5: What is the theme of this new cake?What's love?
Dominique Costa :
The theme is the mix between the French Glamour (represented by Inès de la Fressange), the work on fashion and the passion of the Pastry Chef about his job.
6: Why did you make this new cake?
Dominique Costa :
I love creating new desserts, this is a real challenge for me and my team. Furthermore, a creation that enables to combine a fashion designer's work and the "pâtisserie" world gives us another view of how each one works.
7:What does your new cake mean?
Dominique Costa :
This cake means "Paris and the Glamour à la française", the work of two different professions for a beautiful result.
8:What was the most challenging part of making this new cake?What was it that you learned with this one?
Dominique Costa :
The delicate materials of the cake, the fragile handbag and the breakable meringue made this work complicated.
9: What is the most precious thing in your life?
Dominique Costa :
In life, the most important things for me are my wife, my two children, our know-how and the pleasure of savouring our new creations with our guests. We also have to help people around us, give a hand or just smile, this is very important to me.
10:What's your memorable sweet of special day?
Dominique Costa :
I love making sweets named "Calisson" for Christmas, then our toffee white chocolate lemon with speculaas pieces.
11:Please give us the message for Japanese fans.
Dominique Costa :
I am very impressed by the Japanese culture:this wish to always learn from one another, to surpass oneself. I am lucky because I often have people from Asia in my team (particularly Japanese people), who give us the desire to go further.
(This email's interview is current as of October. 2013)
-----------------------------------------------------------------
The Credit will read:Posted with permission from Dominique Costa Related website LINK:
Le cafe de la paix
INTER CONTINENTAL PARIS LE GRAND
Accueil: Place de l'Opéra 75009 Paris – France
Tél: +33 (0)1 40 07 31 72
news:
At Cafe´ de la Paix, a "fashionista" cake by Ine`s de la Fressange;
Tradition at the InterContinental Paris Le Grand Hotel demands that every year, during Fashion Week, a designer should come up with a lucky-charm cake. This year, it was Ine`s de la Fressange's turn to pick up her pencils and design a raspberry heart cake.Inspired by her sketch, our Head Pastry Chef Dominique Costa has produced a
cake that promises to make an inordinate number of fashion victims…Gently resting upon a soft almond cake, we have layers of cream of coconut, crunchy pralines and fresh raspberries making up a delicate structure, the whole topped with a coconut-scented, heart-shaped panna cotta.That fashion detail: a lovely chocolate handbag, appearing to be made of red velvet and containing a thick raspberry sauce, is served with the dessert.Beneath the sketch, Ine`s has written this pretty phrase,"A raspberry cake for Café de la Paix, the Peace Café destined to become the Love Café too!" To be enjoyed from September to year's end.
A "fashionista" cake by Ine`s de la Fressange
Limited edition available to the end of this year, 2013
price: €18 each
their archive:
Mr.Christophe RAOUX's Interview_2010.December.10_French
Mr.Dominique Costa's Interview_2012. January.10th_English
Translation and Questioner: Yukiko Yamaguchi
----------------------------------------------------------------
日本語を読む webmagazine kimbou:Japanese
webmagazine kimbou:on line free paper TOP ページへ
webmagazine kimbou:home