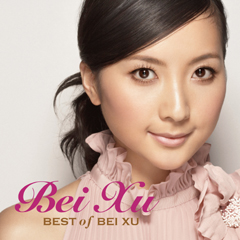 1: When you sing your songs, what do you comes into your head?
What would be the best keyword which express what are your song?
Bei xu:
When i sing my songs, i try not to think about anything but to feel the music and focus on the lylics,just trying to really lose myself in the songs.I guess i would like to use "sensual"to describe my songs.Something that makes every sense of you pops out. I am not sure what my keyword is for a singer.
2:Now, Which song(or CD) of Bei Xu do you like best? Why?
Bei xu:
I like all the original songs because it's my own creation and i feel much more personal to them.
3:Next CD, Which song of NEW CD do you like best? Why?
Bei xu:
I still like"Blue Moon". It's very well arranged and it's a very good remake from the original.It just seems everything is perfect for this song.
4: What do inspire you to select your songs?
What do you need to be inspired in order to select your songs?
Bei xu:
I guess i have to feel it when i hear the song. That's it. Something gives me goose bumps.
5:What does silence mean to you?
Bei xu:
Silence means more imagination.
6:What are your favorite noise and what noise do you dislike?What noise?
Bei xu:
Your favorite noise: The sound of trains coming.
your hate noise:fork scratching plate
7:a)Where is your favorite Japanese landscape? Why ?
Bei xu favorite Japanese landscape:
I love Tokyo tower. It's so romantic.
b)Where is your favorite Chinese landscape? Why ?
Bei xu favorite Chinese landscape:
I don't know if i have a favorite landscape since I grew up in China.
I never looked at it as a tourist. But i do love the old shanghai streets
with old shanghai houses. It has so much culture.
c)Where is your favorite N.Y.'s landscape? Why ?
Bei xu favorite N.Y.'s landscape:
For New Yorks is the same, i love the village, all the boutiques shops and cafes.
8:What beauty means for you?
Bei xu:
Beauty means being funny, confident and cute, more personality than outside.
9:When you were a child, what kinds of desserts did you like?
Bei xu:Little balls made of rice.
10:What are your strengths?Please a word.
Bei xu:Persistent - never gives up
11:What are your weaknesses?Please a word.
Bei xu:emotional
12:What kinds of flowers do you like?
Bei xu:Anything that smell good.
13:Do you like your house ? Where is your favorite place?
Bei xu:
I love my house. It's an old shanghai apartment. I love the stairs the most.
14:What is the best in your life?
Bei xu:
Having my parents, my family and all close friends that support me.
15:How do you relax or unwind?
Bei xu:
Watch a movie in a movie theater by myself.
16:What's your favorite pastime?
Bei xu:
When i first went to Japan for the fist album.
17:What is the best moment of the day?
Bei xu:
When i go to sleep.
18:Please any(brief)message for Japanese fans.
Bei xu:
It has been great going through the past few years of my singing life with all of you. I am very excited about my next album. It will bring back so much memories that we shared in the past. Enjoy and hope to see all of you soon. Miss you all.
---------------------------------------------------------
The Credit will read:
Posted with permission from Bei Xu
Related website LINK: :
Universal Music
Questioner:Yukiko Yamaguchi
---------------------------------------------------------
日本語版を読む webmagazine kimbou :Japanese
webmagazine kimbou:on line free paper TOP ページへ
webmagazine kimbou:home